Posted: March 19, 2019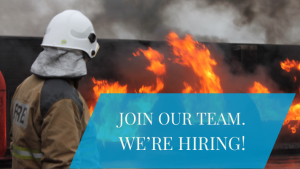 Job Description                                                                                    
Position: Maritime/Offshore Fire and Survival Instructor
Location: NMCI, Ringaskiddy, Co. Cork                                                    
Role: Course Instructor (Practical & Classroom)
Reporting to: Operations Manager- SEFtec NMCI Offshore
Description of the Position
Reporting to the Operations Manager with responsibility for instructing on courses for the Offshore and Maritime sector.
Principal Tasks.
Delivering STCW and offshore training to the Offshore and Maritime sectors.
To be suitably qualified in the disciplines required to teach or assess, as per the standards laid down by various accrediting bodies.
To undertake instructional duties on assigned classes as deemed appropriate by management in both lecture and practical sessions, both at the NMCI and other locations as the management may from time to time reasonably require (e.g. offshore, at clients premises).
To ensure existing courses are reviewed & updated as necessary, and assist in the development of new courses to meet client's needs.
To ensure that safety standards for both staff and delegates are adhered to at all times.
Maintaining appropriate records and making available information as required by management.
Participating in the development, implementation and maintenance of quality assurance.
To liaise with support staff responsible for the delivery of training courses or exercises.
Work as part of a team to ensure consistent standards of training are maintained
To comply with the procedures, staff notices and any other communications as issued by management.
To attend staff development training courses, in-house and external, as determined by line management.
Requirements
Essential:
Minimum of 3 – 5 years instructional / operational experience in the offshore, maritime, Fire Service, or related sector.
The candidate shall have appropriate training in Instructional techniques and training methods. In addition have considerable experience in fire safety and firefighting techniques, have good knowledge of ships, including stability considerations.
Excellent planning, organisational and communication skills.
Experience / knowledge / qualifications in training & education.
Ability to work in a dynamic multidiscipline environment.
Water confident.
Proven track record of ability to contribute to a team effort.
Dive Qualification.
Desirable:
STCW short course delivery experience.
Relevant qualifications and experience in first aid.
Manual Handling Instructor Qualification.
Working at Heights Qualification.
Powerboat Instructor Qualification.
Fire Fighting background.
Good IT skills.
Verifier / Assessor qualifications.
Salary: DOE
Submit CV and Cover Letter to careers@nmci.ie  
Sign Up to our Newsletter