Posted: October 11, 2023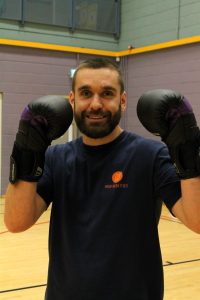 Shane O'Neill, a decorated Muay Thai fighter and dedicated coach, has not only achieved remarkable success in his fighting career, including winning the European title, but has also become a passionate advocate for personal development and mental well-being. In his pursuit of excellence, he found that mindfulness and meditation were invaluable tools for enhancing one's resilience and leadership capabilities. Shane now shares these insights with others, teaching courses such as Leadership Management and Continuous Professional Development (LMCPD) for GAC Training & Service Solutions (GTSS), at the National Maritime College of Ireland (NMCI).  In this blog post we delve into Shane's teachings and philosophy, exploring how mindfulness and physical well-being can transform not only fighters but also leaders in the maritime industry.
The Power of Meditation
Shane O'Neill incorporates mindfulness or meditation into his training courses to help individuals achieve a more balanced state of mind. He emphasises that this practice is not exclusive to fighters or athletes but is relevant to anyone seeking to navigate high-pressure situations or leadership roles effectively. Shane explains, "You want to be able to, in a crisis, or in moments where everyone's feeling pressure, be the one that can come from a more balanced place and see things calmly."
Starting the Week with Mindfulness
Shane's approach is to begin training courses, such as our LMCPD course, with mindfullness techniques. He believes this practice is particularly crucial at the start of the week when trainees might carry the baggage of their journeys, personal concerns, or anxieties. By encouraging individuals to leave these external pressures at the door and focus on bringing their best selves to the classroom, Shane sets the tone for a productive and balanced week. " It's been 15 years of continuous practice of this, and it feels great. It gets better the more you do it."
Growing Awareness of Mental Well-being
Over the last 15 years, Shane has witnessed a significant shift in people's receptivity to mental well-being techniques. He notes that mental health awareness is increasing and that people now appreciate the importance of being more aware of their thought behaviours and habits. Shane challenges the notion of "toughness" by stating, "There's no such thing as tough. There is trained and there is untrained, and there is aware and unaware."
Universal Principles of Leadership
Shane collaborates with a diverse range of individuals, from athletes and fighters to professionals in the corporate world. Regardless of the environment, he emphasises that the principles of leadership are remarkably similar. Effective leadership, he argues, is about understanding when to push and pull, being a positive influence, and presenting oneself authentically. Leaders must uphold personal standards and exhibit a healthy and content lifestyle, which includes focusing on physical well-being, even with just a few minutes of daily exercise. He says, "You don't need a gym, just some floor space."
The Importance of Physical Well-being
Incorporating physical activity into his courses, Shane highlights the importance of maintaining physical well-being as a leader. He demonstrates that even a short exercise routine can boost energy levels. Leaders need to enter any room or situation with alertness and awareness, and physical well-being plays a pivotal role in achieving this.
Continuous Learning and Open-Mindedness
Shane, despite his impressive fighting career and coaching experience, remains open to learning from others. He cherishes the opportunity to interact with people from diverse backgrounds and cultures, as he believes it broadens his perspective and challenges his own opinions.
Teaching Well-being to the Next Generation
As a father to a three-year-old, Shane has extended his teachings to his own little girl, applying techniques like affirmations and positivity before bedtime. He recognises the value of instilling well-being practices in young minds.
Boxing as a Teaching Tool
Shane incorporates boxing into his classes to promote teamwork, communication, and physical presence. He emphasises the significance of leaders maintaining a positive physical presence, as this can have a profound impact on the entire team.
Shane's journey from a Muay Thai champion to a leadership development trainer is a testament to the transformative power of mindfulness and physical well-being. His teachings resonate across various domains, emphasising that resilience, mindfulness, and maintaining physical health are not limited to any one profession. Shane's insights have the potential to shape leaders in diverse fields, inspiring them to become their best selves and lead with authenticity, calmness and strength.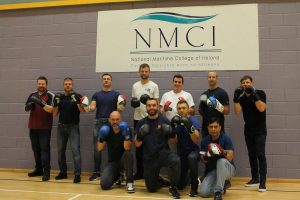 Shane is pictured with Seapeak officers on a recent Leadership Management & Continous Professional Development course at the NMCI.
Interview by Joy Gillen
Sign Up to our Newsletter