Posted: May 6, 2014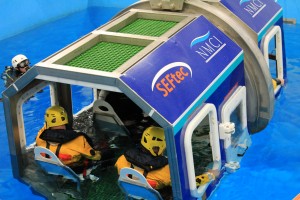 The NMCI featured in episode two of 'Cork Mega Port' on Monday May 5th. The episode showed the SEFtec NMCI Offshore (SNO) team delivering a BOSIET course for delegates preparing to work offshore. Underwater cameras were used to give an exciting insight of the helicopter safety and escape training in action in the sea survival pool. Four hour-long episodes have been produced by Goldhawk Media who spent over four months filming at the Port of Cork.
The crew behind the documentary followed all port employees including management, crane drivers, tug operators, pilots, launch crew and maintenance and engineering staff. Informative, engaging and often humorous this documentary focuses not just on the port's operations but also on the people who make it all possible. Monday's episode can been seen on TV3 player at http://www.tv3.ie/3player/show/608/0/0/Cork-Mega-Port
'Cork Mega Port' airs on TV3, Monday's at 9pm.
Sign Up to our Newsletter