Posted: March 25, 2021
"To reach a port, we must set sail.
Sail, not tie at anchor. Sail, not drift."
– Franklin D Roosevelt
"Virus now of international concern"- WHO" – The Irish Times
"UK warns against mass panic as race to halt outbreak intensifies" – The Guardian
"Crews marooned at sea" – The New York Times.
These were the viral headlines grabbing our attention around the globe in early 2020.
NMCI Services had wasted no time preparing. Throughout February 2020 we implemented the first of our enhanced infection control procedures with a particular focus on COVID-19.
We had real time data from our extensive network of international clients on the seriousness of COVID-19. Additionally we had staff operating overseas that were providing updates.
On March 11th 2020 the World Health Organization characterized COVID-19 as a pandemic.
On March 12th 2020 we safely brought home our staff from overseas.
That same day the Government announced the closure of all schools, colleges and childcare facilities until March 29th 2020.
We had until 6pm.
Staff, varying in all levels of digital knowledge, were within four hours oracles on OneDrive, Teams, Zoom and Skype (an achievement in itself).
The 29th of March came and went.
The team carried on with our reopening preps, updating and strengthening our procedures and risk assessments as Government Guidance and advice evolved.
We were ready, the "new normal" was now routine.
Ready, waiting and keenly aware that throughout the pandemic our trainees had to keep the ships at sea, energy flowing whether oil and gas or renewables and our emergency services were on duty throughout. We positioned ourselves so their essential training requirements could be met safely and without further delay.
Summer 2020 saw case numbers decrease, lockdown restrictions eased somewhat and life beginning to cautiously resume once again.
On August 31st the NMCI's commercial division reopened, under strict safety protocols and with reduced class sizes we resumed essential training.
The new normal
NMCI Services had set sail and was safely navigating through the new normal.
Jim Morrissey, a NMCI Services trainer, explains how the team worked together to ensure the safety of all students, delegates and staff within NMCI Services.
"At the start of COVID-19 we really had to learn quickly as the situation and restrictions/safeguards were changing daily. We were required to put procedures in place which were robust enough to protect students, delegates and staff. It was difficult at the start as nobody had experienced anything like this before, but we coped well and adapted our safe operating procedures to comply with public health guidelines."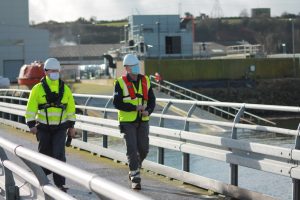 Malcolm Meade, SEFtec NMCI Offshore Instructor, explains how workforce safety was a priority for the team:
 "When the college shut down in March of last year not only did it effect my colleagues and I, it also effected the essential workers we provide courses for. It also meant that some workers for the  energy sector were unable to refresh the safety training required for employment both nationally and internationally.
It was clear from the start we had to find a way to provide these courses to accommodate the workforce.
There was a phenomenal behind the scenes effort made by all of our staff during the first lock down and after, to ensure before, during and after every course the safety of the instructors and delegates were of paramount importance.
I believe these are trying times for all and we all have a part to play in overcoming this pandemic. A safe working space allows us and our clients to remain safe while providing a necessary service to the renewable energy sector."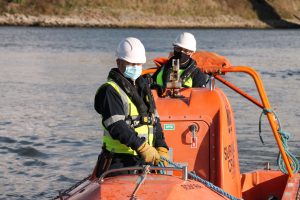 New protocols involved temperature checks and completing COVID-19 health declarations forms on arrival, placing hand sanitising stations in all areas, introducing a one way pedestrian system in our corridors, limiting class sizes and contact time, and completing contract tracing forms for not only staff and delegates but on equipment used by all, to name a few.
The following message was received after a recent March 2021 FOET course:
"I want to thank you and the team for your excellent support in getting me though the FOET course yesterday. I thought it was a really professional teamwork effort from all of you at NMCI. I was really impressed. Well done on your covid-19 process too. Thank you especially for your admin support in the planning and execution stages. It was also nice to get out and meet people again."
What hasn't changed?
While there is enormous focus placed on adhering to COVID-19 safety procedures, it is important to note that the attention given to each individual delegate has not changed. Timothy O'Riordan recently completed his FOET and sent the following message afterwards;
"I am writing this email to say a huge thank you and to express my gratitude to all involved.
As I am totally not comfortable under water, I was dreading the day that I would have to renew my certificate. Four years ago I also struggled with the underwater part but Cillian and the other divers coaxed me through it step by step. I think this time around was even worse for me as I was constantly thinking about what was to come but again I was coaxed through it and thankfully I completed it and survived !
I don't think there is another training centre that would have as much patience and give as much support to a candidate such as myself and I really appreciate the time that was given to me."

Attending a course with NMCI Services soon?
If you are attending a course with NMCI Services and have some questions, do contact our team in advance. We will be happy to discuss your training with you.
Our "COVID-19 NMCI Video" will give you an insight into what a typical day of training at the NMCI looks like at present.
Take the time to watch this video in advance of your arrival to ensure you know what to expect.
Train with confidence with NMCI Services.
Sign Up to our Newsletter