Posted: February 27, 2012
In the latest edition of Dry Cargo International magazine, GAC's ship agency operations are discussed as well as  GTSS, the NMCI and the partnership with Brobulk. Read the full article below: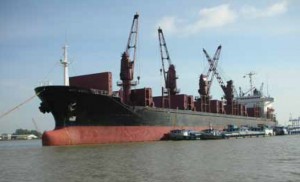 Ships' agents prove their worth
GAC is a global provider of shipping, logistics and marine simulation training. As one of the world's largest ship agencies, it has developed its business on a reputation for professionalism and quality service. As ships' agent, GAC represents more than 3,500 customers and handles close to 60,000 vessels annually through a worldwide network of over 300 offices and a presence in over 40 countries. It is due to the breadth of services that it can offer worldwide that the GAC Group has the financial strength, experience and economies of scale to offer a one-stop solution to customers across the globe. In this article, GAC's group sales director of shipping, Neil Godfrey, gives his insights into the company's role in the ships' agents market, and a view of the shipping industry in general.
As a ships' agent, GAC offers an extensive portfolio of services related to both ship and cargo, which can be tailored to
meet each customer's needs. These include: read more…
Sign Up to our Newsletter