Posted: March 15, 2022
Meet Josh, the newest member of our instructor team. Josh is part of the SEFtec NMCI Offshore (SNO) two year Instructor Training Programme. Beginning his career at the NMCI as a technician and trainee instructor Josh recently completed the two year programme to become an instructor at the NMCI. We chatted with Josh to hear more about his background, interests and future plans.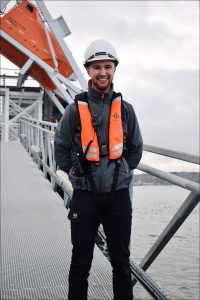 Hi Josh, so tell us a little about yourself?
Hello, my name is Josh and I am an instructor with SEFtec NMCI Offshore DAC.
Growing up I worked in outdoor activity centres during my Summer holidays. I loved the multi-activity courses which included water sports such as sailing, kayaking, and coasteering to name a few. I was really lucky to have such an enjoyable job at a young age – and it gave me great confidence in leadership and instruction. During my time in college, I was a safety officer and later captain of CIT's kayaking club. I learned loads about management as well as general risk assessments regarding water safety. After college, I spent some time working for a fire safety company that specialises in the maritime industry. This gave me great exposure to various vessels, their fire suppression systems, and firefighting equipment on board.
What attracted you to the role of trainee instructor/technician initially?
When introduced to the role of Trainee Instructor/Technician, I was immediately attracted to the similarities it had with my previous instructor role. Each day is different with new learners across various training set-ups. I was especially excited to work in the environmental pool and it's still my favourite 'classroom' in the NMCI. Working all 4 seasons as a water-based instructor can be almost unheard of in Ireland, so this was an exciting concept.
Tell us about your role and what it entails?
When I first joined the team, I was trained into the role of Technician. It was my job to prepare any equipment needed for the courses. This included prepping boats for the pool, equipment for the fire yard, and general organisation of all PPE across all the courses. I found this period in the company beneficial in gaining a better understanding of how the equipment operates. This role also included assisting in the background of courses – lighting fires, capsizing rafts, and launching lifeboats.
1 year later I became a Trainee Instructor. I trained a new colleague into the Technician role, allowing me to spend more time in the classroom learning the courses. I participated in every course we offer as a learner, which I thoroughly enjoyed. I then became a PADI Open Water Diver and later received a National Pool Lifeguard Qualification. I could now participate in the pool as a safety swimmer/diver – a position I was looking forward to since the day I started! Towards the end of my 24-month program, I completed my OPITO Assessors, Train the Trainer, and HUET Instructor course. This is the part of the job that blows my friend's minds!! I love working in the 'HUET' and I'm continuing to learn more with each course I am part of.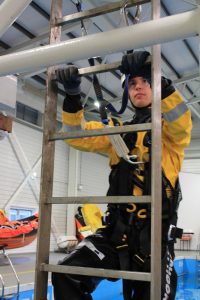 What is your favourite part about working with SEFtec Group?
My favourite part about working with SEFtec Group is the dynamic and varied working environment. No one day is the same. I work alongside seasoned mariners and firefighters regularly. I have the opportunity to train with emergency services like the Irish Coast Guard Helicopter crews each month. I have just returned from training in the UK for an exciting project in the future. I continue to expand my knowledge with every course I am a part of, every person I meet, and every location I visit. Working with SEFtec Group has opened my eyes to an amazing industry with inspiring people working within it. I look forward to more projects in the future, especially overseas.
How will you continue to develop your skills in 2022?
When I first joined the company, I was told "every day is a school day here".
This is absolutely true. Each day my skills and knowledge improve. Every course brings its challenges and rewards and I learn so much from each one. To enhance my skills further, I plan on focusing on the Global Wind Organisation side of training more this year. I also look forward to improving my HUET skills with more time inside the unit. It's also an exciting time for OPITO as they move towards the sustainable energy section. I look forward to being part of this transition in the future. As part of my continuous development, I will be doing Enclosed Spaces, Working at Heights, and Manual Handling instructorships in 2022 also.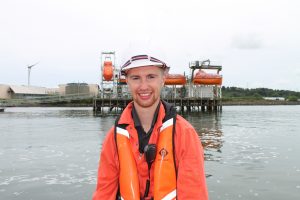 Thanks Josh, we're looking forward to seeing all that you achieve in your career!
Sign Up to our Newsletter