Posted: September 8, 2020
Do you need to attend an OPITO approved BOSIET Course?
Has your FOET recently expired?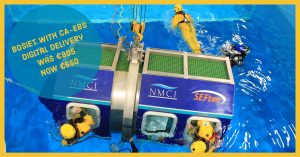 We are acutely aware that the COVID-19 pandemic has had a significant impact on the Offshore Industry, especially with regards to scheduling training.
We ask that prior to booking your FOET with us that you ensure you have a valid (in-date) OPITO-approved BOSIET (with CA-EBS), BOSIET(with EBS), TBOSIET, FOET (with CA-EBS), FOET(with EBS) or TFOET certificate.
We also ask that you ensure that your OPITO Certificate Extension has not expired. (Information on how to obtain an extension can be found on OPITO's website
https://www.opito.com/covid19
)
If your certificate has expired we have scheduled additional dates for the
-.
The theoretical aspects of the BOSIET CA-EBS are available as an online alternative to the 3 Day BOSIET CA-EBS. Once on-line modules have been successfully completed, practical training can be out carried in 1 day.
We have reduced the price of the Digital BOSIET from €805 to €650 from September 9th until December 9th 2020.
Reset the clock, secure your booking and complete your training.
Book your place
here
on our website today!
Sign Up to our Newsletter