Posted: October 23, 2017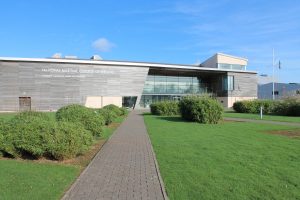 Ireland has a proud maritime tradition and the National Maritime College of Ireland is offering an opportunity to build on that at its Open Day, the annual event held in the College at Ringaskiddy.
It will take place this Thursday, October 26, when the College opens its doors to the public who can see the top, international state-of-the-art facilities which it has. They are a powerful statement of the importance of the maritime sector to this island nation and impressive to see.
This is a day when anyone interested in a career at sea can pursue the many options available in a wide, varied and challenging sector which offers huge opportunities.
Representatives from international shipping companies and maritime organisations will be present to meet and discuss available careers, providing information to visitors about jobs throughout the wide sphere of the maritime industry, both at sea and ashore.
There will be Presentations for schools and their pupils on Marine Course opportunities at the NMCI.
The Open Day will run from 10 a.m. to 3 p.m., with tours of training facilities at the college throughout the day and, in the Events Hall, the opportunity to visit international maritime companies and organisations.
Enquiries and group bookings please telephone: 021-4335607.
E-mail: admissions@nmci.ie