Posted: November 17, 2015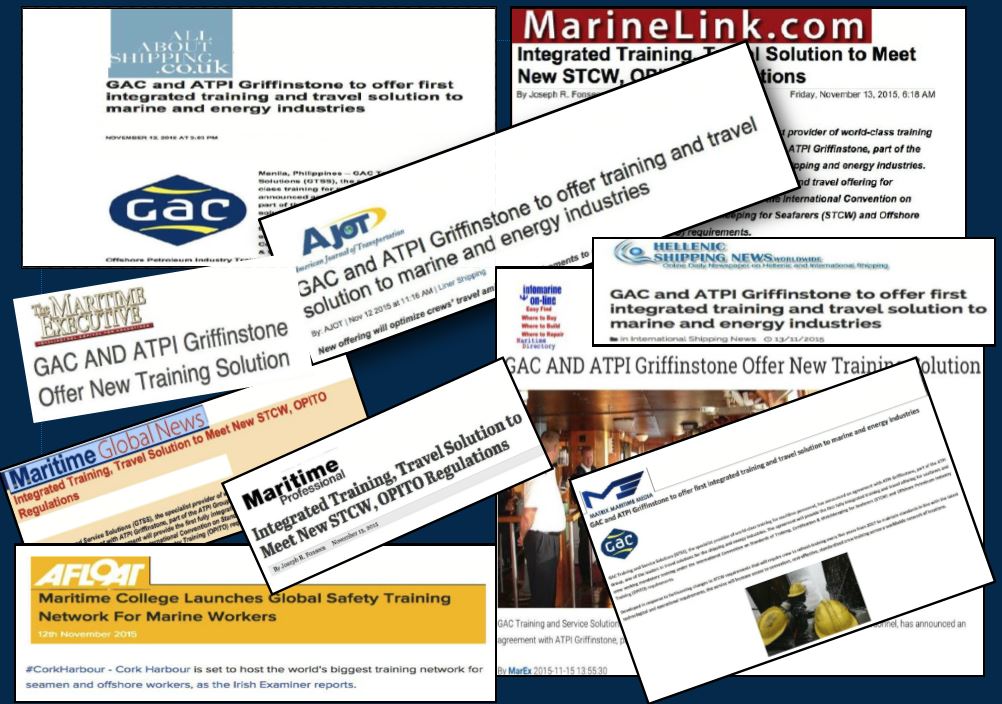 GAC AND ATPI GRIFFINSTONE TO OFFER FIRST INTEGRATED TRAINING AND TRAVEL SOLUTION TO MARINE AND ENERGY INDUSTRIES
New offering will optimise crews' travel amid new requirements to refresh
STCW and OPITO training
Manila, Philippines, November 12, 2015 – GAC Training and Service Solutions (GTSS), the specialist provider of world-class training for maritime personnel, has announced an agreement with ATPI Griffinstone, part of the ATPI Group, one of the leaders in travel solutions for the shipping and energy industries. The agreement will provide the first fully integrated training and travel offering for seafarers and crew seeking mandatory training under the International Convention on Standards of Training, Certification & Watchkeeping for Seafarers (STCW) and Offshore Petroleum Industry Training (OPITO) requirements.
Developed in response to forthcoming changes to STCW requirements that will require crew to refresh training every five years from 2017 to maintain standards inline with the latest technological and operational requirements, the service will increase access to convenient, cost-effective, standardised crew training across a world-wide network of locations.
Christer Sjodoff, Group Vice President, Commercial, GAC, commented: GAC said: "The launch of this comprehensive service is our next break-through in improving training and education provision for the shipping and offshore industries, particularly to help ship operators and managers respond to the new STCW requirements from 2017. As one of the leading travel management companies, ATPI Griffinstone provides our customers with significant economies of scale, international reach and sector specific technology for efficient travel planning to training locations globally, which combined with our breadth of approved training facilities, will deliver unparalleled value and flexibility."
The STCW and OPITO mandatory training courses will be launched in the UK with a further 11 approved facilities added to the programme in the coming months, including Thailand, Philippines, Malaysia, United States, Canada, Ireland, UAE and South Africa. Through the scheme, ship operators, managers and crewing agents can select the most convenient location and create a bespoke integrated travel, transfer and accommodation package through ATPI Griffinstone's access to competitive rates and intelligent booking management system.
"We understand the complexities of planning crew travel and the operational challenges that this presents," said Adam Knights, UK Managing Director, ATPI Group. "As new crew accreditation requirements evolve, supporting GAC in creating the largest network of training and travel services will help companies to reduce the associated costs and co-ordination time, so they can focus on the positive impact that regular crew training can bring to the safety and efficiency of vessel operations."
The new agreement was announced today at Crew Connect Global 2015: Asia-Pacific Manning and Training Conference and Exhibition, Manila, Philippines.