Posted: April 17, 2014
We are often asked what exactly is involved in a BOSIET course and what should a delegate expect to have learnt having completed the course. To begin with BOSIET stands for Basic Offshore Safety Induction and Emergency Training and is a course designed to meet the emergency requirements necessary for personnel new to the offshore oil and gas industry.
During the BOSIET course, which is run over a three day period, delegates learn to identify the main offshore hazards and hazard effects/consequences and their associated risks and how they are controlled in the offshore environment.
In a simulated environment delegates learn how to use safety equipment and follow procedures in preparing for and during helicopter emergencies, demonstrate Sea Survival skills and First Aid techniques.
Delegates are also required to demonstrate that they can effectively use basic fire fighting equipment and practise self-rescue techniques in low visibility situations, including smoke filled areas.
Let's take a look at this week's training, in pictures.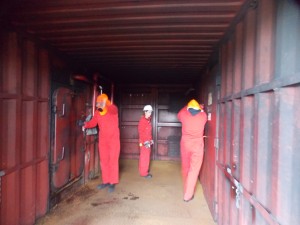 Many thanks to the delegates for their attention and the best of luck in your travels in the future.
For questions on any of our upcoming offshore courses please call +353 (0)21 4335609 or email services@nmci.ie