Posted: December 8, 2015
Tested On Humans, RTÉ 2 , Monday December 14th at 9pm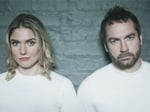 We were delighted to be involved in the filming of the series Tested on Humans which was aired last night on RTÉ 2. Claire and Keith will take the Helicopter Escape Test on the next episode which will air on December 14th. Tested On Humans is a brand new two-part series from ShinAwiL featuring two exciting test subjects radio host Keith Walsh (Breakfast Republic and The Gun Show) and model/slash daredevil Claire Tracey.
Tested On Humans has thrown these two unsuspecting test subjects together to test their mind, body and nerves in a wide range of situations. The tests were formulated by the brightest and best experts in their fields of expertise. Thanks to our human guinea pigs, viewers will get to experience these tests from the comfort of their couch and with zero inconvenience.
"ShinAwiL are proud to bring the Irish viewers Tested on Humans and show how the human endurance can actually be very entertaining", says Larry Bass CEO of ShinAwiL.
Keith and Claire have been tested scientifically, physically mentally and emotionally for your viewing pleasure with tests that include the following:
The Abduction Test – Without warning we arranged a full Tiger Kidnapping of Claire and Keith and put them through what it would feel like in a real abduction situation.
The Mind Test – We delve deep into the brain using NLP (Neuro Linguistic Programming) and install phobias that didn't exist before.
The Pain Test – We put the age old argument to rest, who can handle pain better? Men? Or women? By making Keith and Claire wear weighted pregnancy bellies for days and then simulating labor pains.
The Extreme Food Test – We explode Keith and Claire's senses by using two mystery chefs challenging them to come up with inventive ways to eat the most extreme flavors in the world. These include the smelliest fish in the world and the hottest chilies on the planet.
The Clean Test – We forced our two presenters not to wash, we then took readings from their dirty little hands to see exactly what they picked up from the world around them.
The Wingate Test – Both Keith and Claire are pushed to their absolute physical limit when put through their paces with a test designed for professional athletes.
The Helicopter Escape Test – Our two get to feel what it's like to escape from a simulated helicopter crash at the National Maritime College of Ireland
The Heat Test – Claire and Keith are put through a series of fire scenarios where they will get up close with temperatures up to 1000 degrees and have to save a victim from a smoke filled room.
The Balance and Influence Test – We pit Keith and Claire against each other in Queens University Belfast where they will experience the ultimate in VR technology to test their balance.
Remember;
Date: December 14th
Time: 9pm
Channel : RTÉ 2